Introduction: The clothing market turnover doubled. Fan Rui Art Men's costumes attacked. Can they touch the dominoes in the menswear market and lead the market to reshuffle?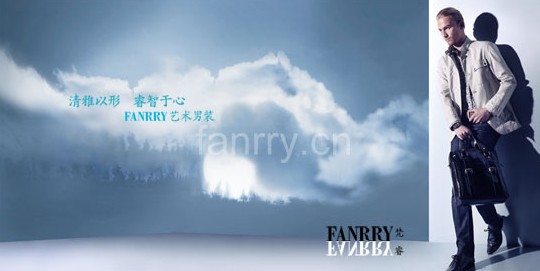 Introduction: The clothing market turnover doubled. Fan Rui Art Men's costumes attacked. Can they touch the dominoes in the menswear market and lead the market to reshuffle?
Ereli Research found that the growth rate of apparel B2C is very obvious. In 2009, the transaction volume of apparel B2C was 2.4 billion yuan, a year-on-year growth rate of 99.8%. iResearch predicts that apparel B2C will still maintain adjusted growth in the next three years, and the transaction volume in 2012 is expected to exceed 18 billion yuan.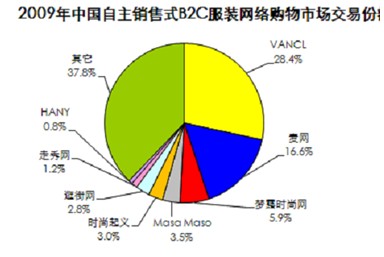 It can be seen that men's clothing online market has occupied half of clothing B2C. Vancl, MasaMaso, and Hany are mainly men's wear. Many other online stores are supplemented by men's clothing. While the menswear market displayed tremendous business opportunities, the competition was becoming increasingly fierce. In this delicate moment, Fanrui Art Men (FANRRY) was on-line on April 12, 2010.
"Vatican" means calm, quiet, "spiritual", intelligent, bright, Hui also. Van Gogh's intention is to take the meaning of "smoothness with style--smartness in heart". He hopes that in this struggling society, every man is successful in his career, and his image is elegant and free in life.
FANRRY's design concept: advocate an elegant and noble way of life, taste the origin of life in a tense modern rhythm, and expressly express the personality traits of mature men. Through the change of dress, they vent their thirst for success and dignity, and integrate the style of calm, elegant and minimalist art. They deliberately create the distinctive elegance and high quality of life that modern urban men pursue. Personality style.
FANRRY is an urban fashion brand jointly created by domestic senior men's designers and Italian designers. Its design concept is also due to the integration and collision between Western fashion art and oriental elegance.
FANRRY Fan Rui's market positioning is in its advertising language, with initial signs, "clear and wise, luxurious and not extravagant." Fan Rui is facing the high-end fashion business market, audience is located in the 25-35-year-old business men, this part of the group has a higher pursuit of the quality of life, pay attention to taste and design details in the dress, knowing on different occasions Should match with the choice of suitable clothing, pay attention to the realization of self-value and identity, with a certain aesthetic ability. While Fan Rui borrows Italian fashion trends, he also pays attention to the body features of Asian men, coupled with a slim version and three-dimensional tailoring to reflect the essential essence of men's wear. This will allow Chinese elite men to live a fresh life in a plain and ordinary life.
Genuine Leather Baby Moccasins
Genuine leather Baby Moccasins are made by 100% quality genuine cow leather, suede leather, soft and comfortable, in variety colors and popular styles,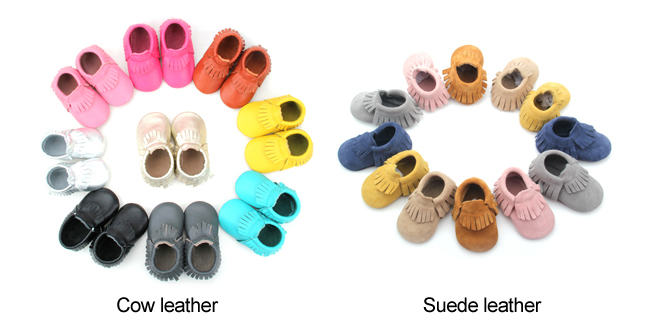 Genuine Leather Baby Moccasins Sizes
Mostly sizes we make for baby moccasins shoes are in 0-6month, 6-12month, 12-18month, 18-24month, and we also use hard rubber sole for Kids Moccasins in larger sizes beyond 2 years old,

Genuine Leather Baby Moccasins Styles
Baby moccasins always come tassels(fringes) styles, bow styles, also printing your own customized patterns on baby moccasins are also available.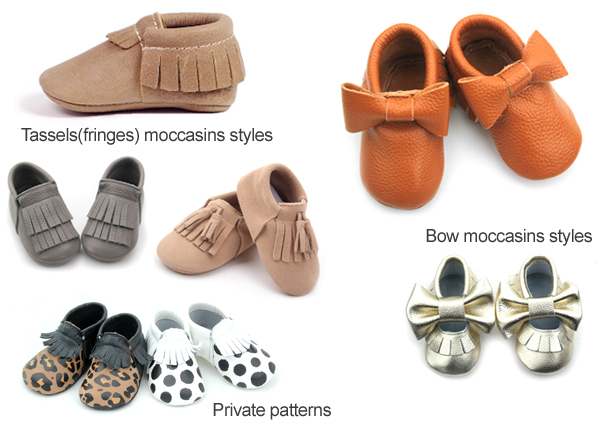 Genuine Leather Baby Moccasins Logo
Moreover, your OEM orders for baby moccasins are welcomed, our factory also provide logo printing & packing customizing service.

Genuine Leather Baby Moccasins Pass Customs Test
All leather we used for baby moccasins follow the requirement of US CPSIA policy, pass CUSTOMS TEST, Pb element less than 90ppm, safe and unharmful, eco-friendly.

Genuine Leather Baby Moccasins Bring Our Wishes
We trust that the baby moccasins we produce are as better as Freshly Picked, and we promise trying our best to help babies grow up well.
Baby Moccasins
Genuine Leather Baby Moccasins, Moccasins Shoes Baby, Cute Fancy Baby Moccasins, Wholesale Baby Moccasins, Freshly Picked Moccasins
Shenzhen Baby Happy Industrial Co.,LTD , http://www.babyshoes.cc