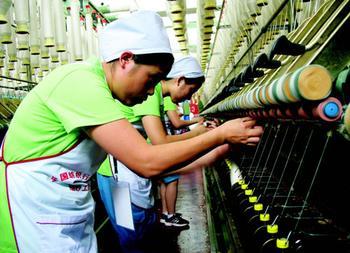 Following the country's first move into the trillion-dollar industry in 2010, the textile industry in Jiangsu achieved better development in 2011: the total industrial output value is higher; the export is expected to exceed 42 billion US dollars, ranking second in the country; more gratifying is that Jiangsu's textile industry's profit growth exceeds the growth of output value, and the economy is running smoothly. Jiangsu Textile Industry Association recently held a research forum in Zhenze Town, Wujiang, and the reporter received the above information at the meeting.
Xie Ming, president of the Jiangsu Textile Industry Association, said that in 2011 Jiangsu's textile output growth was lower than the national average by 3 to 5 percentage points, but the increase in output value and profits was higher than the national average. Xie Ming said that the achievement of such an effect is due to Jiangsu's textile companies actively carrying out product structural adjustments, adjusting product grades, adjusting market orientation, and gradually increasing the added value. Zhenze enterprises participated in this forum, such as Ma Lifang, Shanshui Silk, Deco Textile, Xinshen Group, Yingbao Silk, Qingtian Enterprise, Jili Silk, Ciyun Silk, and Sieve Cube, etc. There is a certain degree of representation.
Product upgrades are tightly focused on the international market. Zhou Lihua, general manager of Suzhou Qingtian Enterprise Development Co., Ltd. introduced that Qingtian enterprises are mainly engaged in knitted garments, mainly exporting OEM products, and also doing domestic ODM. In recent years, with the increase in labor costs and business costs, China's textile and apparel products must transition to a higher level in the international market. Qingtian Enterprises seized the opportunity to carry out technological transformation. At present, the equipment has been completely transformed into Storr or Island Precision Flat Machine. At the same time, the company shifted the manufacturing process outwards and established branches in Suqian, Anhui and Jiangsu respectively, and the output increased year by year while improving the product quality.
The share of Xinshen Group's products for export is about 70%. In order to overcome the difficulty of increasing export difficulty, the Group worked hard to adjust the product structure, and focused on the development of linen fabrics based on the characteristics of linen textiles. The use of short thick flax fibers for fabricating decorative fabrics such as sofa fabrics through technological transformation not only conforms to the fashion trend of home textile fabrics, but also reduces the cost and expands the market.
Deco Textile's products mainly consist of cotton fabrics, hemp products account for about 10%. The price of 2011 cotton "roller coaster" made Deco Textile a profound experience. The increase in cost forced Deco Textile to adjust its export grade. "Walmart's products have no way to do it. Their price is measured and we have no profit at all. We only have high-end, high value-added products and cooperate with high-end department stores and branded apparel." Chairman of Deco (Suzhou) Textile Co., Ltd. Mao Guosen said.
"In the international market, our competitive advantage has been under pressure from countries such as Southeast Asia. Under such circumstances, Jiangsu textile enterprises have not relaxed the international market, but have stepped up structural adjustments to improve product quality and products have moved from the market to supermarkets. More to department stores; from OEM to ODM, aiming at the higher-end market." Xie Ming said, "This is the unique feature of Jiangsu and domestic and foreign markets are all in the same spot. We must not flock to the domestic market."
Implementing brand strategy to promote industrial upgrading Jiangsu's textile industry has a profound manufacturing base and has a strong entity-maker complex. With the guiding role of the brand becoming more and more apparent, Jiangsu textile and apparel companies have appreciated the value of the brand. Xie Ming pointed out that in the textile industry chain, manufacturers benefit only 16% to 20%, 80% of the benefits in the hands of brand owners, the brand dominates people's consumption, control the market's voice, pricing power. Under this circumstance, Jiangsu companies have implemented brand strategies, created their own brands, and achieved industrial upgrading.
In addition to stabilizing the international market, Deco introduced the Italian brand ASOBIO from Italy and made it more in line with the needs of Chinese consumers. The company introduced more than a dozen designers from internationally renowned brands and transformed ASOBIO into a combination of fast fashion and business, gaining consumer acceptance. At present, Deco has more than 10 stores in Shanghai, including its flagship store on Nanjing West Road in Shanghai. The sales amounted to 390,000 yuan on the first day of operation. The establishment of a direct-operated store model allows the company headquarters to implement the strategy directly. In 2012, the turnover of direct-operated stores is expected to reach 700 million to 800 million yuan.
Xinshen Group is also actively expanding its domestic market. Its leading product is a decorative fabric that meets domestic consumer demand. This year, Shinshen Group strives to increase the proportion of domestic sales to 40%. Qingtian started its brand in 2007 and now has more than ten direct sales stores. The goal is to move steadily and gradually.
Landscape silk silk is currently sold in the domestic market, and its brand silk home textile products have been serialized. General Manager Liu Hao said that from the perspective of the participation in exhibitions in Australia and Japan, foreign consumers are still very fond of silk products. As long as the products are perfect and stylish, they are not afraid of having no market. Shanshui Silk currently not only enters first-tier cities in the country, has more than 100 stores (cabinet), but also registered in China in Australia Dream brand, registered in Japan Shanshui brand, this year will also register its own brand in Spain.
The brand "Taihu Snow" of Suzhou Yingbao Silk Co., Ltd., sales in 2011 increased by 40%. Hu Xiaofang, general manager, told reporters that the "Taihu Snow", which has just gotten out of the family workshop mode, is currently eager to step out of Suzhou and expand its market.
Jiangsu Sulong Textile Technology Group started its branding in November 2010 and its starting point is very high. The group registered the brand "Sin Pin" and at the same time created Ma Li Fang, the Ma Life Hall, from Yanfang to flax, from a single flax fabric to a full range of Ma culture, and built an open industrial platform in the form of industrial tourism. Chen Honggen, chairman of the board of directors, said that at present, the problems encountered are: first, the concept issue; second, market development. It is necessary to make efforts to publicize the hemp culture so that more Chinese consumers love to wear hemp and hemp, and the most important thing to support the entity is technological innovation. At present, Su Long is working with Donghua University to develop a linen anti-wrinkle problem. After the success, it is expected that the anti-wrinkle effect of hemp products will be similar to that of cotton.
"From the manufacturer to the brand operator, this is a process of turning around beautifully. We must learn to operate the new system. The Jiangsu textile and garment industry has the basis of manufacturing. To be a brand operator, we must learn to integrate resources." Xie Ming said, "In recent years, In the future, Jiangsu Textile and Apparel Industry Co., Ltd. puts forward the goal of "brand Jiangsu, Jiangsu fashion" and at the same time actively builds Jiangsu's new advantages, namely, six new advantages in efficiency, quality, brand, fashion, talent and environment, which are realized in Jiangsu's unique attitude. Upgrade."
Greenhouse Fabric,Nonwoven Filter Fabrics,Greenhouse Non-Woven Fabric,Non Woven Fabric Used In Agriculture
Yizheng fengyisheng nonwoven co., ltd. , https://www.fys-nonwoven.com